Page 3 - CTT Subdivision_Manual_CA
P. 3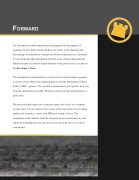 Forward
The information in this manual has been prepared for the purpose of assisting our developer clients and their associates in the planning and developing of residential or commercial subdivision projects in California. It is our hope that this information will help you to better understand the subdivision process and the responsibilities of the parties who are a part of the Developer's Team.
The information contained herein is meant to give the developer a general overview of the subdivision mapping process and the Department of Real Estate ("DRE") process. The specific requirements of your project may vary from the information provided. Therefore, please use this information as a guide only.
The pressures that burden our clients are many and varied. As a member of your team, it is our goal to relieve some of these pressures by providing quality title insurance, escrow and DRE processing services. This commitment will continue from the inception of our involvement in your subdivision through the sale and close of escrow of the last lot or unit in your project.